Would you like to get to know the fascinating underwater world?
Do you enjoy snorkeling?
Then don't wait any longer, become a diver and start your adventure in the underwater world which holds countless surprises for you. You will be surprised at the variety of life under water, with strange plants, colorful corals and an unimaginable variety of animals. But be careful, diving is addictive!
We attach great importance to a solid and detailed training, because safety always comes first for us. The better the training, the more comfortable you feel in the water and the more you can enjoy exploring the underwater world. Our trainings are held in Swiss German, German or English.
If you are not quite sure whether a diving training is the right thing for you, we recommend you to do a "discover scuba dive" with us. Afterwards you will know if you want to continue and start the Open Water Diver course.
No matter what you choose, one way or another you start your training in the pool before you go into the open water (sea). Khao Lak offers with the Similan National Park a dreamlike scenery, above and under water.
After you are a certified diver, you can dive and explore the underwater world of the Andaman Sea. There are countless diving opportunities on the Similan Islands, Koh Bon, Koh Tachai, Surin and Richelieu Rock. An experience that you will not forget so quickly.
We offer a big range of SSI courses from entry level to professional level and you can start your diving course any day of the week with us. We look forward to meeting you at our dive center.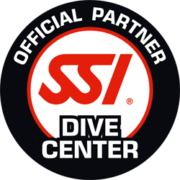 For more than 45 years, SSI has provided training, scuba diving certification, and educational resources for divers, dive instructors, dive centers and resorts around the world. Started in 1970, SSI has expanded to include more than 30 Service Centers, is represented in more than 110 countries with over 2,800 International locations, and has materials printed in more than 30 languages. SSI is the name to trust in the diving world. SSI is recognized anywhere you want to dive.